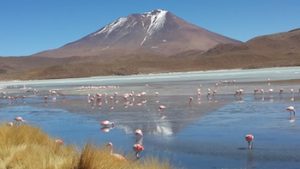 It's only 10 p.m., but everyone has retreated to bed except the five of us playing cards in the hostel dining room.
"Deal another round," I say, "I'm staying up all night." Sleep seems unlikely when the temperature is plunging towards minus 12 degrees C (10 deg F), there's no hot water for showers, and six people are sharing each room where the beds are blocks of salt.
I've discovered that you can't enjoy the stunning scenery of Bolivia without a little hardship because this is an untamed land that demands some resilience from the adventurers who enter.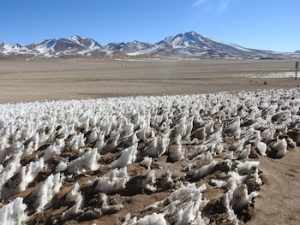 Bolivia's Salar de Uyuni are the largest salt flats in the world, created when tectonic shifts delivered the Andes and left an ancient lake drying in the wind. The dazzling white scenery is punctuated with bubbling hot springs, a geyser perpetually shooting out hot steam and rocks scoured into weird shapes by the chilly wind. We admire a red lagoon filled with flamingos in front of the snowy Andes, stomp on snow wind-whipped into daggers of ice, and scramble around an island studded with giant cacti planted by the Incas.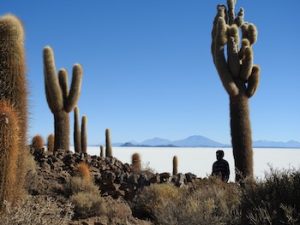 Spanish conquistadors overran Bolivia in the 1540s, leaving it Spanish in language and Catholic by name. But that's just a veneer over the strong indigenous Aymara and Quechua cultures, and ancient beliefs are very present below a semi-modern façade. It's one of the cheapest and least visited countries in Latin America, with a heady sense of witchcraft and wildness swirling through the atmosphere.
La Paz at an altitude of 11,975ft is the highest capital in the world and literally takes your breath away, as if air is passing in front of you but not quite entering your lungs. So you rest a while to let your erratic heartbeat slow, recognizing that this isn't a place to rush around.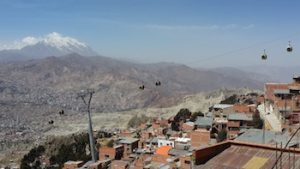 It sprawls across a valley with endless shacks and houses clinging at gravity-defying angles to the mountains. The transport system includes three cable car routes that are great for commuters and fabulous for tourists, who can take a trip up the hills to see ordinary life and wonderful panoramas.
The most touristy street is Sagarnaga, lined with hotels, restaurants and travel agents, English pubs and darkened bars where you can drink and dance until 4am. The fascinating Witches' Market is just round the corner, with stalls crammed with love potions, herbal remedies and miniature models of the things you might desire in life to burn as offerings. Dangling above them are white, furry llama fetuses, ready for are burying in the foundations of every new building as an offering to Pachamama.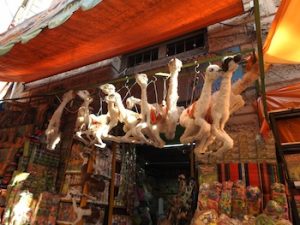 There's a far larger witches' market that tourists are advised not to visit without a guide, because this is a poor city with skillful pickpockets. There's another reason to stay away too, says Christian, my guide on a Red Cap Walking Tour. A llama fetus isn't much of an offering for large buildings, so urban legend says a sangoma will find a homeless person or a drunk, ply them with alcohol, then bury them alive under the concrete. Foreigners are worth more, he jokes, so if someone tries to pick you up with offers of free drinks, say no.
The Red Cap tour starts outside San Pedro prison, a notorious complex where the criminals run shops and restaurants, share their cells with their wives and children, and enjoy good internet access thanks to a strong signal from the hotel next door. The jail right in the city centre once housed a flourishing cocaine lab too, with the end product lobbed over the walls at night to waiting colleagues.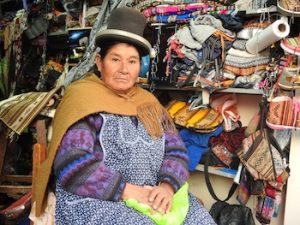 A far less edgy place is Calle Jaén, a pretty colonial street housing four small museums, including the Gold Museum and Museo del Litoral, which documents how Bolivia lost its coastline in a skirmish with Chile.
A slow amble down the hill is Plaza Murillo, the main square boasting the Palacio Quemado (Burned Palace), which has been gutted several times in various uprisings. In 1946 President Gualberto Villarroel was thrown from its second floor balcony then hung from a lamppost in the plaza. The equally ornate Congress building across the square has a clock that runs backwards, apparently as a snub to the Spanish who believe Bolivia has gone backwards since gaining independence. I prefer to see it as a country returning to its intriguing roots.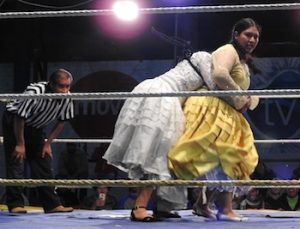 One evening I take a trip to the Cholita Wresting Match. Cholitas are the short but stocky women who wear Bolivia's traditional outfit of flouncy skirts, colorful knitted socks, ornate blouses and bowler hats. They must be a difficult to walk in, let alone wrestle in, but these ladies fly at each other exuberantly in a carefully choreographed match where the nasty cheat always loses. These days it's purely for tourists, but in the past people would settle their arguments in a ferocious fight one day every year, before making up over a bottle or two of booze.
If you want to tackle something dangerous yourself, try Death Road, dubbed the most dangerous ride in the world. It's a spectacular descent of 11,800 feet from snow-covered plains to the Amazon jungle, and a high-speed, high-adrenaline thrill.
As a wobbly cyclist at the best of times, I got enough thrills from being breathless in the city centre.